EXPLORE- EX1000 mid drive fat tyre ebike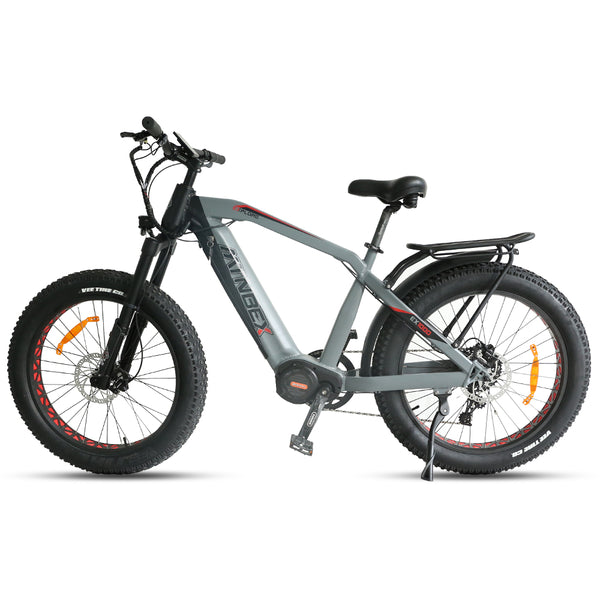 EXPLORE MORE WITH ELECTRIC
The explore 1000 has a unique geometry and top-of-the line suspension that sets it apart and makes it the perfect cross-over sport trail bike. Likewise, the increased traction of the fat-tires gives the EX1000 the ability to handle mountain terrain with ease.

The explore 1000 features an integrated 17.5ah battery and improved cable housing to amplify your ride. This bike has an incredible 11-speed gear ratio in the Sram NX cassette. As a result, the explore can take you wherever your trail leads.

The explore was designed and engineered around the unparalleled power and performance of Bafang's ULTRA mid-drive motor. Without a doubt, the Ultra motor is recognized as the "diesel engine" of fat tire electric bike mid-drive motors! For this reason, the rear suspension of the Scout had to be just as heavy-duty to handle the torque and power without causing the frame to flex under intense loads.

Undeniably, the all-metal, heavy-duty gearing of the Ultra motor, combined with the intelligence of an integrated torque sensor, make the Ultra motor the most capable, durable, and efficient fat tire electric bike motor on the planet.
Furthermore, the Ultra motor is considered a smart motor. The speed, cadence, shift, brake, and torque sensors work simultaneously to provide continuous feedback from the rider to the motor. As a result, this allows the motor to deliver exactly what you ask. What you get is a very natural feeling ride, even with a tremendous amount of torque and power output.

Take your riding to the next level with this all-new fat tire electric bike built for the mountains. Be one of the first to ride the all-new MTNBEX explore today!
Features:
Battery:LG lithium battery 840Wh | 17.5Ah/48V
Motor:BAFANG commercial M620 1000W mid motor,Triple sensor system(1 torque,2speed sensors) delivers instantaneous response to pedal-power input,160N.m of Torque. This smart torque sensing motor, powered by Bafang, is capable of falling under all 3 Classifications of eBike laws. Toggle between both 750 watts, and 1,000 continuous watts with a max power output of 1,500 watts.  
Display: Bafang DP C18.UART Full Color LCD
Range:Up to 60 Miles

Modes:Eco-Assist,Sport-Assist,Walk-Assist,Throttle,Switch between 750W or 1000W

Brakes:Tektro  Hydraulic Disc
Steering: Wide 780mm Handlebars for Greater Stability
Front Suspension:MTNBEX-150mm Inverted Air-suspension Fork
Gears:SRAM 11-Speed
Wheels: 150mm Thru Axle Front Hub/ Rear Hub 3/8x 26 tpi 175mm
Tire:Unparalleled Traction and Control VEE 26" X 4.25
Handlebar:780mm Wide handle

Frame:18"(L),Thicken to 3mm High Grade Aluminum Alloy 6061
Weight:83lbs
Load Capacity:350lbs