EGOAT - EG1000 mid drive hunting ebike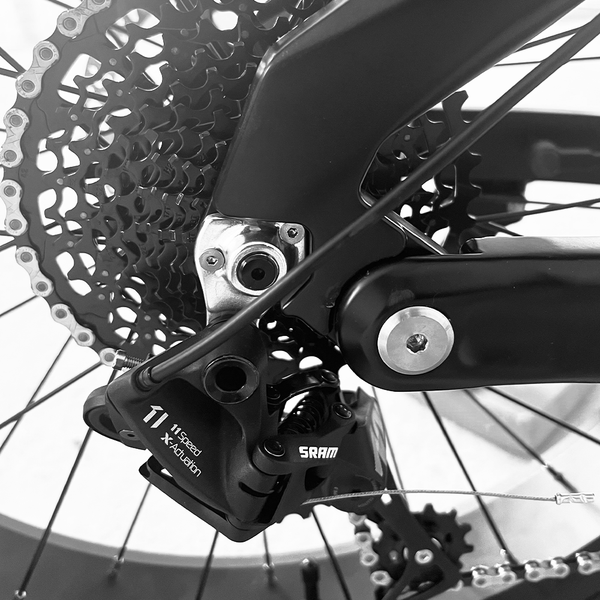 Elevate Your Outdoor Adventures With The EGOAT
The all-new EG1000 earned its name trekking over the highest peaks and steepest terrain. Built for life above the tree line, the EG1000 deploys 4.25" VEE Tires and the upgraded DNM suspension in the rear, giving you 130mm of travel to command rocky and rugged terrain.

The Ultra motor is referred to as a smart motor. The speed, cadence, shift, brake, and torque sensors provide continuous feedback from the rider to the motor, simultaneously allowing the motor to deliver exactly what you ask. The internal gear hub and derailleur system allow for gears to be changed without pedaling. As a result, these elements combine to give a very natural feeling ride and performance while the massive 17. 5ah battery provides extra range to push further into the backcountry.

And with TEKTRO hydraulic brakes and a fully adjustable air-suspension fork and rear shock, you can maneuver the most technical routes fearlessly. Reach the highest peaks, on the back of an EG.

True four-bar linkage: The DNM suspension system is a true four-bar linkage, providing the ultimate traction, comfort, and capability. All frame parts are forged to provide strong impact resistance.

All-terrain versatility: Easily conquer off-road terrain including soft sand and snow, hardpack trails, and rocks.
Rider flexibility: Suitable for all types of riders and with adjustable seats ranging from 17 to 19 inches
Load-bearing: Designed to carry heavy cargo, with a 350-pound load capacity for transporting gear. Ideal for hunters or overlanders.

Flexible Modes: Eco, Sport, Throttle, Walk
Motor:BAFANG commercial M620 1000W mid motor,Triple sensor system(1 torque,2speed sensors) delivers instantaneous response to pedal-power input,160N.m of Torque. This smart torque sensing motor, powered by Bafang, is capable of falling under all 3 Classifications of eBike laws. Toggle between both 750 watts, and 1,000 continuous watts with a max power output of 1,500 watts.  
Battery:LG lithium battery 840Wh | 17.5Ah/48V
Display: Bafang DP C18.UART Full Color LCD
Range:Up to 60 Miles

Modes:Eco-Assist,Sport-Assist,Walk-Assist,Throttle,Switch between 750W or 1000W

Brakes:Tektro  Hydraulic Disc
Steering: Wide 780mm Handlebars for Greater Stability
Front Suspension:MTNBEX-150mm Inverted Air-suspension Fork
Rear Suspension:  DNM SHOCK RD-38 Air rear 
Gears:SRAM 11-Speed
Wheels: 150mm Thru Axle Front Hub/ Rear Hub 3/8x 26 tpi 190mm
Tire: Traction and Control VEE 26" X 4.25
Handlebar:780mm Wide handle

Frame:18"(L),Thicken to 3mm High Grade Aluminum Alloy 6061
Weight:89lbs
Load Capacity:350lbs